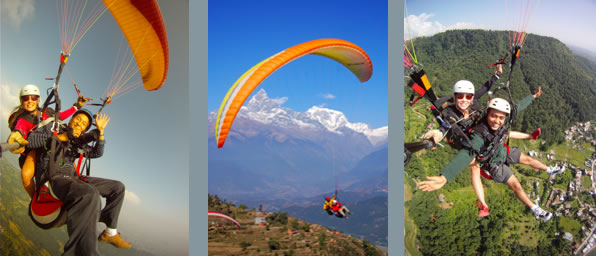 Flight: 
Price: $120.00 (25 min)
Long Flight:
Price: $150.00 (50 min)

The human kind always had a dream. Throughout history, constructing wings and balloons, jumping of cliffs and building engines, humans always wanted to experience the same freedom in the sky as the birds. Even today the dream of flying silently in the sky is realized by only a select few.Paragliding, is a testament to human success in realizing this dream. Since it's inception, paragliding has spread all over the world as people searched for new places to explore their new-found freedom and ability.
Paragliding in Nepal is a relatively new activity. The sport took root in Pokhara after companies like Avia Club Nepal opened doors with the Civil Aviation Authority of Nepal for airsport activites. Realizing the benefit to local economy and tourism Microlighting, Hot Air Balooning, Skydiving and Paragliding amongst other activities began to thrive in Pokhara.
Photographers and people from all walks of life come to Pokhara to experience the thrills and ecstasy of motorless flights in the Himalayan skies over Nepal.
Avia Club Nepal offers several options for paragliding in Nepal: From very accessible timed flights from Sarangkot to complete paratrekking packages that combine the ever popular trekking activity with paragliding. Paratrekking, lets visitors, paragliding pilots and adventure seekers to explore Nepal in a totally unique way. Paratrekking events can be arranged in advance and the possibilities are boundless.
Please Note: The above cost of the flights is subject to change without prior notice.